826 Boston
3035 Washington St.
Roxbury, MA 02119
617.442.5400
Directions
---
Students Take the Stage at the Strand Theatre, Thanks to 826 Boston and the A.R.T.
From
the ARTery
, August 13, 2014:
Photo by WBUR
"In a quick five week scramble that would make for excellent reality television, a group of 20 students from ages 10 to 14 write, design and act in their own play — culminating in a performance at the Strand Theatre on Friday, Aug. 15.

"The show Friday night draws inspiration from the themes of world building and imagination in "Finding Neverland," which the students saw at the A.R.T. on a field trip.

"They wrote their play by creating four different worlds with their own fables that use some of the things they like, but also amplify some of the problems they perceive, says Brendan Shea, the education and community program manager at the A.R.T.

"'These kids are exploring some of the big ideas of utopias and dystopias that they would have, or already have, gotten to in school,' says Shea. 'They're exploring big ideas in their communities.'
Read more about our Summer Theater and Writing Camp with the A.R.T. at WBUR
---
Lessons in Craft: A.R.T. helps Boston students shape short plays
From
Harvard Gazette
, July 31, 2014:
Photo by Gretjen Helene.
"Throughout the five-week theater and writing program, the students are crafting short plays inspired by the magical themes in "Finding Neverland," with help from 826 Boston tutors and A.R.T. professionals. Their works will come to life during a one-night performance at Boston's Strand Theatre on Aug. 15.

"Prior to seeing "Neverland" on Tuesday evening, the students received feedback on their early efforts from cast members and A.R.T. Artistic Director Diane Paulus.

"'We wanted to offer the students a little more inspiration as they go into their second drafts about how to use their imaginations and just some encouragement to really go wild with what they think up," said Georgia Young, the A.R.T.'s education and community programs assistant."
Check out the Harvard Gazette's article for the full story!
---
826 Boston's After-School Students Dispense Advice for Valentine's Day
From
The Boston Globe
, February 17, 2014:
Students from 826 Boston's After-School Writing & Tutoring Program had a blast answering questions for Boston Globe advice columnist, Meredith Goldstein.

During a visit to the tutoring center, Goldstein helped 826 students deliver thoughtful words of wisdom on every-day relationship problems, from texting to annoying baby brothers.
Check out their pragmatic solutions in Goldstein's special "Love Letters" column!
---
I Want You to Have This in the News
From
The Boston Globe
, August 3, 2013:
"Sometimes the value of an object isn't immediately apparent, as Cassania Gilson of Haiti learned when her grandfather gave her a pair of wooden shoes. 'How could a ten-year-old girl love a weird pair of yellow shoes?' she asked herself. In time, she learned. The shoes embodied the struggles her grandfather had endured to make money. He wore them when he worked as a comedian. They were, Gilson wrote, 'the tools that Grandpa Fanis used to keep his family from falling apart.'

"In an afterword, Boston International teachers Laura Gersch and Kristin Russo suggest that the students have something to teach everyone: 'This book asks us to reevaluate the material wealth in our lives, to look for significance instead of abundance, and to consider what the things we hold on to tell us about who we are and what we value.'"
Read the entire article at The Boston Globe.
---
I Want You to Have This in the News
From
The Boston Globe
, May 26, 2013:
"As legions of frustrated college instructors will tell you, writing with passion and discipline is a skill way too few high school kids learn. What is lost goes way beyond grammar. Better writers are better thinkers. There is great power in being able to tell your own story, on your own terms.

"The students whose stories made it into I Want You to Have This, proud and amazed at what they've achieved, know this. In a couple of days, their work will be sold in bookstores, and shelved in libraries. They will have authority, and permanence.

"'I want to show people what I lost,' Abbas, [a student author], said. 'I want to show people the price I paid to get here.'"
Read the entire article at The Boston Globe.
---
A Place For Me In The World in the News
From
The Boston Globe
and
Boston.com
, June 16, 2012:
"The state writing standards for middle-school students abound in colorless references to topic development, transitions, and 'domain-specific vocabulary.' Nowhere does it suggest that writers in grades 6 through 8 should be capable of producing a joyous, publishable-quality book. Maybe it's time to update the standards.
On Monday night, middle school students at the Mission Hill School in Roxbury signed copies and read excerpts from their recently published work, A Place for Me in the World: People Talk About the Work They Love.. The narrated accounts and question-and-answer sessions draw on the experiences of 45 mostly local workers. It's a nice mix that includes a ventriloquist who throws his voice into a jar, a veterinary surgeon who specializes in large animals, and a philosophical benefits coordinator at the MBTA."
Read the whole article on Boston.com.
---
Draft Days
From
The Boston Globe
and
Boston.com
, December 3, 2011:
For the majority of high school seniors, life's big problems include middling grades, bad skin, or parents who "just don't understand.''

But this time of year another major challenge comes to mind: writing their college essays. This is the season when teenagers sit - and sit - before computers, struggling to describe themselves, their achievements, and their goals in ways that will persuade college admissions officers that they should be welcomed into the fold.

"When you have students who have similarly high grades and other qualifications, the essay takes on a new level of importance, because it's at that point that college admissions advisors are determining what makes one student meaningfully different from another,'' says Daniel Johnson, executive director of 826 Boston, the local branch of the tutoring and writing nonprofit cofounded by educator Ninive Calegari and author Dave Eggers.
Read more
---
We Think You're Old Enough to Know in the News
From Boston.com and The South End Patch

June 2, 2011 and June 5, 2011
"These are tales — some true, some not — of defiance, belonging, family, sorrow, lost loves, and moments of triumph. Tutors from 826 Boston worked with an English class at the John D. O'Bryant School of Mathematics & Science in Roxbury and a design firm donated its services to produce the book, one that captured the attention of actor-writer-producer Steve Carell." - Boston.com

"Those assuming the O'Bryant exam school is only for math and science geeks need to think again—this project portrays a much more well-rounded curriculum. If you're curious to see for yourself... "We Think You're Old Enough to Know" will be sold online and at the Harvard Book Store in Harvard Square, Cambridge." - South End Patch

Read more at
South End Patch
and at
Boston.com
---
A Mission For The Books
From Boston.com, March 8, 2011


Prize-winning children's author Rich Michelson visited the Mission Hill School yesterday to read from his book "Busing Brewster,'' a story about desegregation. His visit kicks off a partnership between 826 Boston, the Foundation for Children's Books, and the Mission Hill School that will have local children writing their own stories about social justice. Michelson visited with some students and their teachers Laurel McConville and Jenerra Williams.
Read more
---
Dear First Lady Michelle,
From
The New York Times
, November 27th, 2010
Earlier this fall, 826 National hosted a series of workshops inviting our students from around the country to write to the first lady. The results were collected in the book
I Live Real Close to Where You Used to Live: Kids' Letters to Michelle Obama (and to Sasha, Malia and Bo)
. Here's one letter that traveled from Boston to our Nation's capital:
Dear Michelle Obama,

Hi, we are 10 and 9 years old. We live in Boston. We hope you send letters back to us.

I think that you should shut down cigarette and liquor companies and try to keep drugs off the streets. Robots may be able to help you. We all appreciate your hard work to make America better.

Sincerely,

— AIDAN SHIELL-LOOMIS, age 9, and NICHOLAS ALLEN, age 10, Boston
Read more
---
Young guns of poetry
From
Boston.com
, May 16th, 2010:
Poets of a certain age — as in, eligible to collect Social Security — dominate the literary scene around town. Now a younger generation is demanding to be heard...

Boston teens express sobering and inspiring sentiments about their present, past, and future in two new books. Mayor Thomas M. Menino and big-name authors will congratulate the young writers at a fund-raiser Tuesday for 826 Boston, the nonprofit writing and tutoring center in Roxbury that published the books.
Read more
---
Dave Eggers offers youth writing workshop
From
Boston.com
, April 8th 2010:
Dave Eggers, he of "A Heartbreaking Work of Staggering Genius'' and "What is the What,'' is a mensch, plain and simple. Besides his many literary accomplishments, he is also one of the founders of the nationwide literacy program 826 National, which runs writing, tutoring, and publishing programs for underserved students aged 6-18 in a half dozen cities like San Francisco -- where it all started in 2002 as 826 Valencia -- L.A., New York, Seattle, Chicago, Ann Arbor, Mich., and Boston.

To support the program here, Eggers will make an appearance at 826 Boston at 3035 Washington St. from 7-9 p.m. tonight to demonstrate one of his group's most popular programs for the city's elementary and middle-school students, "Storytelling and Bookmaking.'' Boston public school classes regularly visit the center on field trips to participate in "Storytelling,'' which Eggers helped develop.
Read more
---
A garden of rebirth: Change takes root in Egleston Square
From
The Boston Globe
, June 15, 2009:
In the window display at the new boutique are a pink mannequin, funky shoes, and an assortment of sunglasses.

At the new writing center down the street, interesting paraphernalia, including baby giant centipedes, lure patrons and volunteers through the doors. And not far away sits the peace garden.

Like the neighborhood it serves, the garden was once blighted, but is now thriving. And that highlights the story of Egleston Square.

"I think it symbolizes change," said Bill Minkle, who heads Ecumenical Social Action Committee, the community group that conceived the peace garden. "For example, you take this blighted area and you transform it by creating a garden . . . and then it starts to take shape and grow. It's a slow process. And that symbolizes what's happening in Egleston itself."
Read more
---
Progress Report for the Young'uns
From
Daily Kos
, April 28, 2009:
Earlier this year, McSweeney's and the literacy group 826 National published a book called Thanks and Have Fun Running the Country, a collection of advice-filled letters from kids to President Obama. Since we doubt anyone in the traditional media will bring our youngest citizens into the discussion of the president's first 100 days in office, we're here to fill the vacuum. Here are some of their suggestions from the book and an update on President Obama's progress in fulfilling them:

One thing you could fix is the economy. Something happened to me: I went to lunch at Starbucks and I wanted to buy a cup of whipped cream and normally it's forty-three cents but now it's seventy-four cents! The price raised thirty-one cents for no reason. So you should probably try to change things like that from happening. You should keep an eye out for things like that.
P.S. I love whipped cream!
---Alexis Feliciano, age 9

Status: In progress
Read more.
---
Dear Sir Obama: Presidential Advice
From
The New York Times
, January 16, 2009:
Dear President Obama,
I am small, quiet, smart. I love to swim and play basketball. My mom and dad are from the Dominican Republic. I am going to the Dominican Republic next year. I think you should try to change the world by building shelters for the people who live in the streets. It's the beginning of January, and it's cold. Good luck being the president.
— Pamela Mejia, age 11, Boston
Read the full article
A McSweeney's/826 National publication, "Thanks and Have Fun Running the Country" is a collection of letters from 826 Boston students to President Obama, alongside letters and drawings from 826 students across the country. 826 Boston is currently sold out of Thanks and Have Fun Running the Country but should have more in stock soon!
---
Where the Wild Things Are
From
The Phoenix
, January 8th, 2009:
At the Museum of Science, the "Mythic Creatures" exhibit (on display through March 22) delves into the folkloric and ethnozoological aspects of cryptids, from the Kraken (Norwegian sea beast) to the Chupacabra (Latin American livestock muncher). In Egleston Square, the 826 Boston writing center — a chapter of the San Francisco workshop established by Dave Eggers — disguises itself behind a think-tank named, fancifully, the Greater Boston Bigfoot Research Institute. (Slogan: "We exist because he exists.") Even Harpoon Brewery's new line of high-octane beers is called the Leviathan Series — named for that gargantuan but seldom-seen creature of the lower depths.
---
An eye- and mouth-opening experience
From
The Boston Globe
, Wednesday, November 5, 2008:
When children have a chance to play restaurant critic, they might describe a mound of pasta with cheese sauce as volcano-shaped, or compare a cheesecake to sugary socks. Being a restaurant critic feels like an adventure.

That's what happened when budding critics, ages 11 to 14, recently learned how to become more discerning diners through "Food Critic for a Day," a workshop at the nonprofit 826 Boston in Egleston Crossing. First, the eight students meet with teachers Ryan Rose Weaver, an editor at go2 media, and Jennifer Coates, an assistant professor of nutrition at Tufts University. They start by asking them to describe a Chinese sesame bun filled with red bean paste. The texture reminds T.J. Wasserman, 11, from Belmont, of a "Tempur-Pedic mattress." Eva Hernandez of Roxbury, 13, says the bun looks like "a deflated basketball."
---
In plain English
From
The Boston Herald
, Sunday, June 15, 2008:
Students at English High School are speaking up about peace and learning in a new, 160-page anthology of poems, essays, stories and letters titled "I Wish They Would Have Asked Me."

"Our goals are to inspire students to write," said Daniel Johnson, director of 826 Boston, a Roxbury tutoring and mentoring program.

"At English High we worked over the course of about a year and a half, going in with tutors, and helping students revise and improve their writings," he said. "At a certain point the project took on a life of its own, and we came out with six chapters of students responding to life's changes and giving voices to their own ideas."
Download the complete story.
---
Life Lessons at English High
From
The Boston Globe
, May 22, 2008 Editorial Page:
STORIES SPILL out of English High - about being the nation's oldest high school, about alumni such as Mr. Spock (actor Leonard Nimoy), about becoming a failing school that the state has threatened to close.

Another story - about how this Boston high school is remaking itself - might have been consigned to posterity's filing cabinets. But thanks to student authors and to 826 Boston, a local nonprofit writing center for children and teenagers, a human part of English High's story is being committed to a book.
---
Bigfoot Lends a Hand
From WBUR's April 10 feature on 826 Boston:
ANDREA SHEA: While the curiosities will pull in some money for the non-profit organization, its real mission lies behind a secret door.

Sound of secret door sliding open and then the busy writing room

ANDREA SHEA: This is 826 Boston...a cozy but rigorous tutoring center for area school students, ages 6-18. It's one of seven novel storefronts created by Dave Eggers, author of the best-selling memoir, 'A Heartbreaking Work of Staggering Genius.' The 826 shops in other cities have different themes: pirates, superheroes, time travel and outer space.
Read the feature transcript
here
.
---
Visit the Bigfoot Research Institute: Sasquatch Symposium Fundraiser for 826
From Yelp's "This Weekly Yelp," April 8:
cherie c. says: I assure you is entirely for real. The leeches and the crabs are already in residence at the center. I've seen the ballet! Check out the site for bios on all of the speakers. This event will be SO much fun!

Kabir "Plaidypus" H. says: Do we get to eat the loser of the giant crab fight?
Read
Yelp
's pre-event blog
here
!
---
Bigfoot in Boston?
Storefront is more than meets the eye
From a March 20 feature in The Boston Bulletin:
Need a sampling of Bigfoot toenails, a Yeti hairball or even a Chupacabra claw? Don't worry; the GBBRI's got 'em. They even come with certificates of authenticity!

...[But] the GBBRI is only the sizzle that sells the steak.It is one of 826's unique store fronts that get people in the door and helps provide funding for the real work 826 does for communities in six other cities.
Read the full article
---
kids are people too
From an "On Our Radar" feature on the Not For Tourists website, posted February 25, 2008:

My grandfather was a teacher in the Roxbury School System for his entire career, and I can still remember how proud he was to help them learn. He also helped them learn awful jokes, but that's a balanced education. I find myself in a position to follow in his footsteps a bit by volunteering at the latest chapter of 826 National, the non-profit organization dedicated to help students become better writers. 826 Boston opened just this past Fall 07 and is gearing up to offer free workshops, tutoring, homework assistance, English as a second language help, and even some publishing for all students, ages 6 to 17. The storefront is labeled The Greater Boston Bigfoot Research Institute because they're opening a full Cryptozoology store, for all the Bigfoot and Creature of the Black Lagoon fans out there. How freaking cool is that?
Read the full feature
here
!
---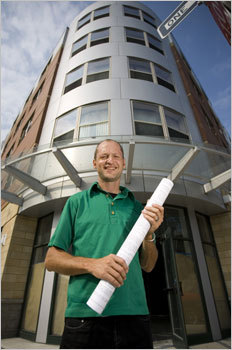 Volunteer Here
From
The Boston Globe
's 2008
Best of the New
:
Roxbury's 826 Boston won't open its cryptozoology supply store until this spring at the earliest, but the creative and expository writing center (an offshoot of 826 National, which began in San Francisco) is offering free writing workshops and one-on-one tutoring. In just a few months, it's already served hundreds of MCAS prep-overloaded kids. The center, open to all area students, has recruited an impressive advisory board, including novelist Tom Perotta and Harvard professor Henry Louis Gates Jr. Even more impressive: its 250 volunteers. Join them.
---
People Talking and Talking
From an interview with Dave Eggers and the Long Winters' John Roderick discussing the upcoming benefit for 826 Seattle in The Stranger, November 7, 2007:

EGGERS: ...I don't think we've ever had the same lineup for any two 826 shows. This one in Seattle will be very different than pretty much anything we've done. It'll be especially fun as long as Roderick doesn't screw anything up.

RODERICK: There's going to be comedy at this one, which will make a lot of my screwups seem intentional.

EGGERS: Eugene Mirman just did a benefit out in Boston for 826. He's hysterical; he did a great job.
Read the full interview here...
---
Sci-Fi On The Side
From the Boston Globe's October 20, 2007, article on 826 Boston and the Greater Boston Bigfoot Research Institute "Sci-Fi On The Side":
A peculiar building in Egleston Square will open soon under an equally peculiar name: the Greater Boston Bigfoot Research Institute. Flanked by ordinary shops, its futuristic front already stands out on Washington Street where Roxbury meets Jamaica Plain. When its tall glass doors open, the sights inside will be stranger still. Sales clerks will hawk paranormal paraphernalia such as unicorn tears, and people dressed as scientists will busy themselves in apparent research at the city's center of cryptozoology, the study of creatures that may not be real. But things aren't always as they seem. The "cryptozoologists" will be volunteers in character; the specimens in jars of murky liquids, props. The entire sci-fi scene at 3035 Washington St. will be a facade for an imaginative, hands-on writing center called 826 Boston. 826 Boston opens to students next week for free weekly workshops held in an orange-walled room in back; the store will open in a few months.
---
Yetis in Egleston?
From The Jamaica Plain Gazette's October 5, 2007 feature on the local 826 writing center:
EGLESTON SQ.—If Sasquatch is considering taking up residence in Egleston Square anytime soon, he or she should not count on staying anonymous for long. Come November, if all goes well, the neighborhood will be home to the new Greater Boston Bigfoot Research Institute. So Bigfoot beware. 826 Boston, the new local chapter of a non-profit organization dedicated to helping students ages 6 to 18 with expository and creative writing, is moving in.
Read the more here...
---
826 Boston inspires writing at BPS schools
From The Boston Banner's September 20, 2007 article on 826 Boston:
Two men stand just inside the entranceway of the building at 3035 Washington Street in Roxbury. They talk excitedly, exchanging ideas and gesturing to the bare, brightly colored walls.

Their subject, strangely enough, is cryptozoology, defined as "the study of evidence tending to substantiate the existence of, or the search for, creatures whose reported existence is unproved, such as the Abominable Snowman, Bigfoot or the Loch Ness monster."

To understand how this applies to 826 Boston, the new writing and tutoring center in Egleston Square, requires, well, a little imagination.
Full article here!
---
A heartwarming tale of staggering genius
From the Boston Herald's September feature on 826 Boston
Once upon a time, in fact earlier this very summer, teens at English High in Jamaica Plain were asked to write urban fairy tales - and one is coming true right now.

A shiny new building in Egleston Square houses the seventh chapter of the nationwide nonprofit 826 Valencia creative writing program. The program, known here as 826 Boston, is the quirky brainchild of best-selling author Dave Eggers ("A Heartbreaking Work of Staggering Genius") and his local team of writers, authors, teachers and volunteers.
More here
---
Choose your own adventure
From the Boston Phoenix's March 2007 article about 826 Boston, "Choose your own adventure":
The sign outside 826 NYC, the Brooklyn-based branch of the nonprofit youth writing organization founded by Dave Eggers and Nínive Calegari in San Francisco in 2002, declares that it's home to a full complement of superhero supplies ... There's so much to look at, so many labels to read, that you almost forget to wonder where the classroom space is, where the kids actually learn and write. But then a woman your age, mid 20s, walks past you toward the back of the room to a wall of shelves holding yet more superhero supplies. She pulls at the shelves — a secret door! — and disappears, the shelves closing slowly behind her. Repeating her steps, you reopen the shelf-door and find a huge classroom with tables, desks, chairs, couches, tons of books, tons of light. No matter how cynical you are, no matter how much you malign McSweeney's or Eggers's do-gooding, you cannot help but smile here. To be a kid and have this place be all for you? Amazing. To hang out with these diminutive fantasists, as a barely grown-up volunteer, and help give their imaginations shape? Just as cool. And this fall, Boston is slated to become the seventh chapter under the 826 National umbrella.
Read the whole article here!