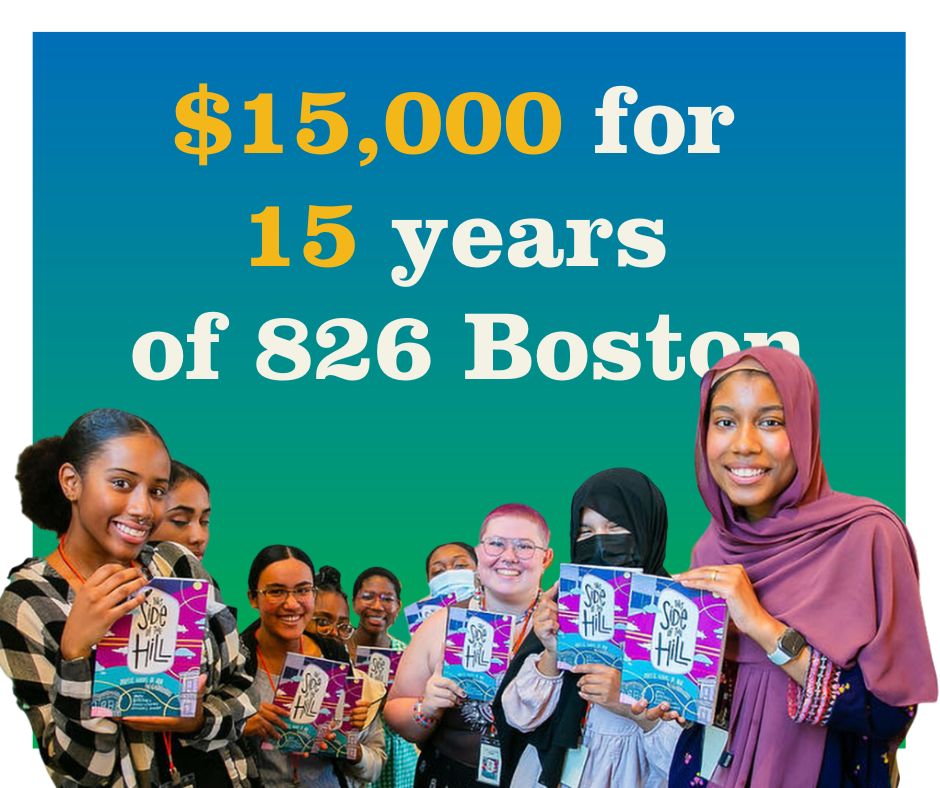 For 826 Boston's 15th year, we're celebrating in a big way — we're aiming to raise $15,000 by Giving Tuesday (November 29, 2022).
And, for a limited time, your gift could go twice as far this year. The Hawkins Project has generously offered to match Giving Tuesday donations, dollar-for-dollar.
Wondering what your gift this year will support? Here's a look at what students and the 826 Boston team have been working on together over the past few weeks:
Trained volunteers worked one-on-one with students during our College Essay Boot Camps, with more than 14 sessions offered at four Boston Public Schools in October. In a thank you note, one student shared: "Thank you for helping my future…"
Our Writers' Rooms have been busy, launching journalism clubs, a slam poetry club, brainstorming articles for a literary magazine, practicing mock trials, and starting new book projects.
After two years of remote tutoring, our After-School Writing and Tutoring team welcomed back students and their families in person for homework and writing support.
Your gift will provide much-needed resources for the school year ahead so we can continue to write and share with Boston students during this critically important time.
Donate now to become one of our first Giving Tuesday supporters and double the impact of your gift. Visit 826Boston.org/give today.
---
← Previous
Bigfoot spotted at the 2022 Boston Book Fest