Summer is almost here at 826 Boston, and what better way to finish up the semester than with a whole slew of book release parties? The most recent in our lineup was a celebration of My Reflection, Before and After, a collection of essays and poems written by 12th-graders at the Jeremiah E. Burke High School. The event began with a festive brunch and then we settled in to hear from some student authors and the staff members who worked with them. "I used to sit on the porch for hours enjoying the amazing weather, surrounded by mountains, and listening to my dad recall events from his life…When I initially came to the United States, everything was difficult for me, because it was hard to live without my parents," Jussara read from her essay "Memories of my Life on the Northwest Coast of Africa." "It took some time, but…I learned to walk on my own two feet."
We raised our glasses of sparkling cider to toast the newly-published authors, who then got to work signing books, taking photos at the photobooth, and eating a cake decorated just for the occasion.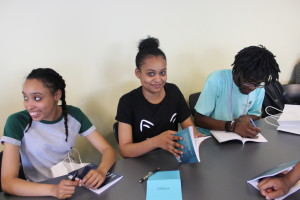 Thanks to everyone who helped out in the Burke Writers' Room, volunteered at the release party, or showed up to hear students read. You can pick up your own copy of My Reflection, Before and After at the Bigfoot Research Institute or order it online and read these students' compelling stories yourself!
---
← Previous
A Very Literary Night of 1,000 Stories 2017
Next →
826 Boston's First-Ever Picture Book