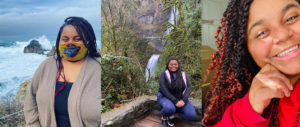 Ariel is a skilled storyteller (she avidly consumes and creates stories), and she's also skilled in the art of multi-tasking. She is currently pursuing a dual master's degree with an MA in Children's Literature and an MFA in Writing for Children from Simmons University, while also serving as 826 Boston's AmeriCorps Volunteer Engagement Specialist! Here's a little more about her:
Successes at 826 Boston so far:
Ariel is proud of the "Intersectionality and Identities Workshop" she led for volunteers this winter. 
Favorite moment at 826 Boston so far:
For Ariel, working with a student at the Jeremiah E. Burke High School on their essay about Sojourner Truth stands out. She and the student were able to have a long, meaningful conversation about how the work of a Black woman shouldn't be measured against a man. 
What are you listening to?
Ariel is always, ALWAYS, listening to either an audiobook, a podcast, or music. She just finished the audiobook Rent a Boyfriend by Gloria Chao, which she chose because of the Chinese romance representation in the book and its very fun premise. 
For Ariel, listening to audiobooks and podcasts while she works is the only way she'll get things done. She's been listening to audiobooks since she was a kid, when she would check out MP3 players from the library. 
What are you watching? 
Right now, Ariel is watching NCIS and In The Heat of the Night, from beginning to end, with her mom. She also just started a new anime, The Gods of High School. She loves watching foreign TV shows in languages other than English, from K-Dramas to Telenovelas! 
What are you eating?  
Ariel is eating…Mongolian Barbeque! When she's home in Sacramento, CA, she has it at least three times a month. 
Fun fact?
Ariel loves arts and crafts. Right now, she's hand knitting a blanket and crocheting a blanket. She also enjoys painting and sketching. 
Goals?
In the long run, Ariel wants to be a children's book author. Short term, she wants to learn Korean!
What are some of your favorite picture books right now?