Every month our staff nominates and votes on our Top Researcher—a volunteer who has gone above and beyond, helping 826 Boston and our students grow and be better, and who has put in the time and effort to help us locate Bigfoot.
Here's a list of past Top Researchers. Who knows—maybe you'll be next!
Jump to: 2018 | 2017 | 2016 | 2015 | 2014 | 2013 | 2012 | 2011 | 2010
June 2019 – Erin Sunderland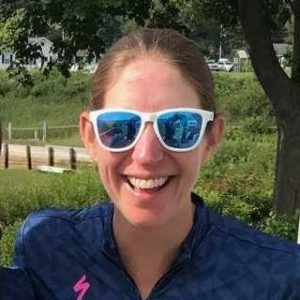 Erin's Favorite 826 Boston memory: "Oooh, tough one! I have so many. But having Boston Marathon's Des Linden come to last year's Night of 1,000 Stories gala and then sit at my table was pretty amazing."
March 2019 – Pam Rosenberg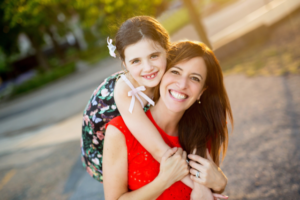 Pam's Favorite 826 Boston memory: "My first 826 book project will always be my favorite. It was with twelfth graders at the Margarita Muñiz Academy and their extraordinary teacher, Laura Gersch. I worked with so many amazing students with incredible personal stories. Watching the students' transformations from sometimes reluctant participants to excited, published authors at the book launch party felt a little bit like a magical journey. My autographed copy of the book, Attendance Would be 100%, is a favorite item in our house."
December 2018 – Jack Nedell And Yassmeen Youssef
Jack's Favorite 826 Boston memory: "The second time I did evening tutoring. All of the students I had worked with the week before remembered my name and sat down at my table because they wanted to work with me again."
Yassmeen's Favorite 826 Boston memory: "I always work with one middle schooler in particular, and after a while of working together, he starts to understand the material and he starts smiling and becoming more confident. I love the instances when he has a breakthrough because I can see how much work he put in to get there."
November 2018 – Ceci Menchetti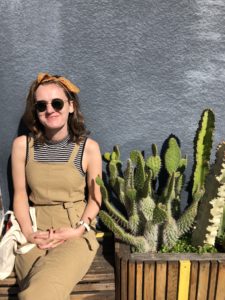 Favorite 826 Boston memory: "Working on college essays with high school students, I frequently write down verbatim quotes when they think they aren't writing yet, just telling me their story or answering questions about their hopes and dreams. It's a great moment when I read their words back and they realize that the process is already well under way. It's so rewarding to reflect students' power back to them, watching them go from 'I said that?' to deciding that their voices are strong enough to commit to paper."
October 2018 – Forest Hallee
Favorite 826 Boston memory: "Whenever students make something for me."
July 2018 – Charleen Kress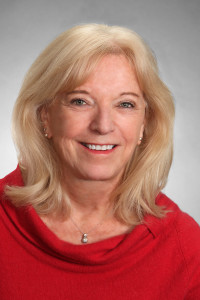 Favorite 826 Boston memory: "The first time I volunteered for a field trip and experienced the amazing process of young students writing a book and 826 Boston putting it together for them!"
June 2018 – Andrea Vayda
Favorite 826 Boston memory: "A student telling me how he found time in his very busy senior schedule to tutor a little girl in 5th grade because, 'when I was younger someone had once helped me and it mattered.'"
May 2018 – Matthew Bancroft
Favorite 826 Boston memory: "Working on creative writing with first and second graders at the Boston Teachers Union School Writers' Room during the after-school club this past March. One student in particular came up with a wonderful and unique story about a blimp-like ship, which she named after herself, that had the power to protect all of the fairies in the kingdom from the giant flying hotdog that was attacking."
April 2018 – Fabienne Dessalines
Favorite 826 Boston memory: "The day I worked with a student on long division."
March 2018 – Carina and Monica Christo
Carina's favorite 826 Boston memory: "I really enjoyed going to the publishing parties last year and this year because the end product is always awesome. It was great to see the same proud excitement in all the kids and their families and from all of 826 of course."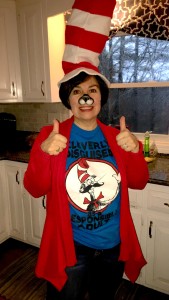 Monica's favorite 826 Boston memory: "I have two favorite memories . . . the first day we walked into 826 we sat down with J.J. in her office and she told us all about 826 and Dave Eggers. Then she took us out to the tutoring area and introduced us to the kids. I felt so comfortable and knew that this was going to be an amazing experience. What a journey it's been this past year! We just celebrated one full year and look forward to many more. My second favorite memory was meeting Dave Eggers at his book signing on February 14! We stood in line for an hour, and when we actually got to meet him it was as if no one else was in the room. He chatted and thanked us for volunteering. We even took pictures!"
February 2018 – Kryanna Wallace
Favorite 826 Boston memory: "Working with Khai and having a passionate discussion with her about a current book she was reading. Overall, it is great to see someone have the same passion when it comes to books that I shared when I was younger."
January 2018 – Louise Herman
Favorite 826 Boston memory: "I have much enjoyed witnessing the excitement 826 brings to the classroom, and as a lifelong writer myself, I love the focus on good writing. My favorite 826 moments and memories have been one-on-one conversations with individual kids, listening to the amazing things they say and helping them find the best words to capture their thoughts and feelings."
December 2017 – Kaleem Ahmid
Favorite 826 Boston memory: "Being an honored invitee at Books for Breakfast this year was an absolutely amazing experience and a memory that I will fondly look back on for many years!"
November 2017 – Carolyn Megan
Favorite 826 Boston memory: "The first time I brought my students to 826 one of them came up to me after the event and said, 'Being here is not really about helping others, it's about growing my community. I learned so much about myself today.' It was a highlight of my teaching experience!"
October 2017 – Catherine Byun
Favorite 826 Boston memory: "At the end of each field trip, seeing off the students and giving them high fives, saying 'keep writing.'"
September 2017 – Anita Diamant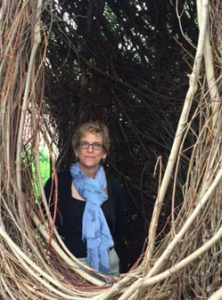 Favorite 826 Boston memory: "The second morning of College Essay Academy, when my two mentees were so happy to see me."
August 2017 – Katherine Gross
Favorite 826 Boston memory: "Getting to manage a group of volunteers and represent 826 Boston at Fenway Park! Very gratifying and a highlight of my summer."
July 2017 – Toni Czekanski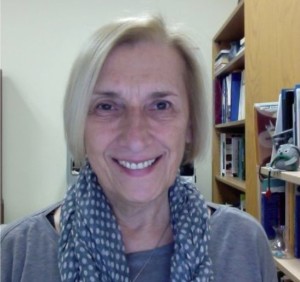 Favorite 826 Boston memory: "Listening to the 826 staff share their journeys as writers during one of our sessions together. We all learned a lot about one another as writers that day! Also, the most recent Night of 1,000 Stories poetry slam performance. It rocked the house!"
June 2017 – TiElla Grimes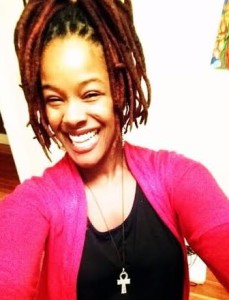 Favorite 826 Boston memory: "Watching Leah, a.k.a. Lady Metasonification, perform at English High slam/open mic for her first time ever! She blew the audience and myself AWAY!"
May 2017 – Maria Jerez
[PORTRAIT ON LOAN]
Favorite 826 Boston memory: "Any time I'm able to bond and get to know the kids more."
April 2017 – Anneli Hershman and Juliana Nazaré
Anneli's favorite 826 Boston memory: "One time a student was learning to write in Spanish and we discovered that her homework and my Spanish homework from university were the same! We had a great time learning to conjugate verbs together!"
Juliana's favorite 826 Boston memory: "My favorite memory was when Karen was talking about having a fire drill during announcements. One of the kids raised her hand and asked 'shouldn't we remove all the books because books burn fast in a fire?'"
March 2017 – Katie Bayerl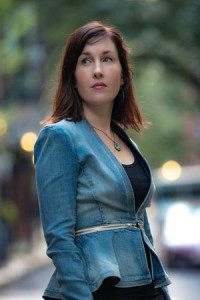 Favorite 826 Boston memory: "Ooh, tough one. There are all of the touching young writer moments, of course, but I think my second favorite memory was the opening of the Greater Boston Bigfoot Research Institute storefront back in 2008. I'd been involved in early planning work, and to see this wild idea come to life—and so beautifully—was a major WHOAH moment. My #1 favorite memory (yes, I cheated on this question) was coming back to the Egleston Square writing center after a few years away and seeing how the space had just exploded with books and color and evidence of so many young writers who'd been there, putting their voices to paper."
February 2017 – Barbara Sheffels
Favorite 826 Boston memory: "It's very hard to pick one! My favorite memories are of hearing the students' voices: in their writing, at the book release party, in their homework and how they approach it, and when we are just chatting on the days that I tutor."
January 2017 – Kevin Walker
Favorite 826 Boston memory: "Putting up all the pictures in the bathroom!"
December 2016 – Mimi Curran
November 2016 – Michelle Chen
October 2016 – Vincent Huang
September 2016 – Maura Fertich
May 2016 – Lauren Rubenzahl
April 2016 – Rachel Schowalter
March 2016 – Fiona Vidal-White
February 2016 – Christopher LaFortune
October 2015 – Marissa Simoes
August 2015 – Ethan Koss-Smith
June 2015 – Kara Daniels and Alexandra Patch
May 2015 – Katherine Rooks, Judy Bolton-Fasman, Nancy Butman, Suzanne Bailey-Hererra, Mimi Curran, and Oliver Farnum
November 2014 – Garth Brody
May 2014 – Gizmo Sangco
April 2014 – Rachel Bergquist
February 2014 – Rachel Greenberg
August 2013 – Emily Millman and Tareen D. Wimbish
July 2013 – Jay Cook
June 2013 – Ben Smith
May 2013 – Jeryn Warren
April 2013 – Yeab Minas
December 2012 – Debbie Clemens
November 2012 – Matthew King
September 2012 – Ryan Lambert
August 2012 – Jesse Moskowitz
July 2012 – Lindsey Warriner and Danny Cairns
June 2012 – Wali Hassan
May 2012 – Perrine Marcenac
April 2012 – Alex Greenberg
March 2012 – Emily Eisenhauer
February 2012 – Brent Lowder
January 2012 – Daniel Moss
December 2011 – Nancy Butman
November 2011 – Johnny Sadoff
October 2011 – Kenneth Love Villar
September 2011 – Tianna Tagami
August 2011 – Katrina Grigg-Saito
July 2011 – Rodrigo Garcia
June 2011 – Brandon Abbs
May 2011 – Continuum
March 2011 – Sophia Ezomoghene
June 2010 – Ali Reid
---
Frame design credits:
Map, Notebook, Scribbles,
Designed by Freepik
Wooden Texture for Background
Designed by Lyashenko / Freepik
These and all other elements arranged by Andria Warren.