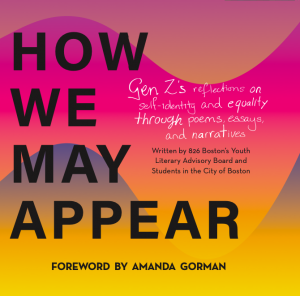 Join us on Thursday, May 6 for a virtual celebration of How We May Appear, the first anthology produced by 826 Boston's Youth Literary Advisory Board. This student-authored publication features stories and poems written by young people across the city.
As foreword author Amanda Gorman says: "Reading the collection from my sunlit apartment in Los Angeles, it is hard not to be struck with the vision that these authors present: a vibrant and youthful Boston, with its tongue of many languages, and heart of many songs."
This free, invitation-only event will feature student readings, music, and more. You will receive an email before the event with a link to join the Zoom event.
We can't wait to celebrate with you!
---
Virtual Book Release Party for How We May Appear
May 6, 2021
4:00 PM
Virtual event