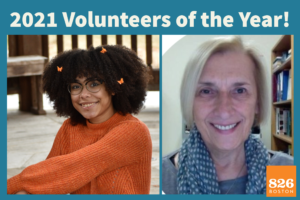 826 Boston volunteers are fearless guides constantly prepared for their next excursion. They are adventurous, passionate, and eager to walk alongside students as they follow the trail of writing, or strike on their own path. With their steady commitment, we have continued to create spaces where students can share their stories and amplify their voices – even in a virtual world. With the sudden changes in programming last spring, we didn't know what volunteering at 826 Boston would look like. We, like the rest of the world, built new routines, structures, and methods to ensure that the students we serve had access to the same level of care as they did in person. Volunteers were instrumental to that change, serving as tutors, illustrators, mentors, editors, consultants, and much, much more.
Thanks to their support, the 2020-2021 school year has been filled with many new programs and publications, including: 
Releasing 13 student publications and counting, including the digital publication

The Native People Know What I am Talking About

and the Youth Literary Advisory Board's first publication,

How We May Appear

.

Intentional 1:1 tutor/student for the After-School Time program, so students and tutors could build stronger relationships and the students could have more consistency during a time when there was so much changing. 

Science Fair Boot Camps where students received tailored support from STEM volunteers as they polished their research papers and presentations, in preparation for the Boston Public Schools Citywide Science Fair.

A series of Supplemental Volunteer Trainings focused on honing skills surrounding Diversity, Equity, and Inclusion used during tutoring sessions.
It is our tradition to celebrate exceptional volunteers at our annual appreciation event, Interrobang?!. Due to COVID-19, we had to continue with our virtual celebration instead! While every single volunteer contributed to our success this year, these volunteers went above and beyond to bring their own quirkiness and zeal into our spaces by engaging in thoughtful conversations with students and sharing their specialized skills in an impactful way.
Drum roll, please! 
We are excited to announce 826 Boston's two 2021 Volunteer of the Year recipients and 826 Boston's 2021 Volunteer Superlative Winners (in alphabetical order):
826 Boston's 2021 Volunteers of The Year:
Toni Czekanski has been volunteering since 2018 and has been an incredible support during remote tutoring this year, regularly volunteering with The BINcA Writers' Room, Young Authors' Book Project, and College Essay Boot Camp. Toni is a warm, engaging tutor who has shown up consistently to BINcA sessions every year. Whether she was helping on senior capstones, formulating incredible college essays, or assisting with our publication projects, Toni brought kindness, empathy, and care that made students feel at ease. She's deserving of this award and is such an incredible educator!
Nicole Hester joined our team as an intern with the Burke Writers' Room in the fall and returned for a second semester this spring. As an intern, Niki has been a vital part of the Burke Team, supporting students during class visits, and creating and facilitating a workshop this spring. Niki also regularly supported other Writers' Rooms and engaged regularly with intern professional development sessions and networking events. Niki was one of the strongest interns at the Burke. From the beginning of her internship, she had ease connecting to the students and building authentic relationships. She continued to step further by creating and developing a workshop focused on self-identity and empowerment for girls. Overall, Niki has been a huge asset to the Burke Team and we as a team have been proud of her work!
826 Boston's 2021 Volunteer Superlative Winners
Tom Gagen is Captain Capstone. Tom has been one of our most dedicated volunteers this year since day 1. Especially in the senior capstone project, he has shouldered extra shifts and made a huge effort to be there for students. We appreciate his active participation in pre-briefs and debriefs, his sharing of questions and strategies with the group, and his commitment to student success. 
Roberta Gianfortoni is Most Likely to Be a Digital Mastermind. Roberta was another superstar during the Young Authors' Book Project! Roberta was always ready and willing to learn how to use the project's various platforms outside of Zoom so that she could work alongside her students. Thank you, Roberta, for always going the extra mile during our remote sessions! I'm so grateful for your dedication to the students and the project.
Jenn De Leon is The Giving Tree. Jenn not only did an author talk for the entire OB 9th grade and helped us get book donations, but she also returned to talk with a student about her writing group and gave them advice.
Mia Merchant is Digitally Dynamic. Mia has been a stand-out volunteer at BINcA this year, bringing her digital skills and her fun and warm tutoring style to our many projects. I've observed her working with many students this year, and she has a wonderful knack for asking questions that lead students to great understanding and new discoveries. She is also very kind and has a great rapport with whoever she meets! I'm impressed with the way she inspires empathy and energy in the digital tutoring space. 
Jeanne Segal is Most Likely to Sing During Tutoring. Jeannie always brings the energy and fun in a session. She's not afraid to be creative and expressive to engage the students. She incorporates her passion for theater to make tutoring sessions dynamic and is always excited to share her advice with other tutors during debriefs. And she always comes with a smile even if it's early in the morning! 
Bill Stephenson is Most Likely to Remain Calm, Cool, and Collected in the face of Technical Difficulties. Bill remained steadfast and adaptable in changing circumstances. It is a huge adjustment to tutor over zoom, and it is one that he took in stride!