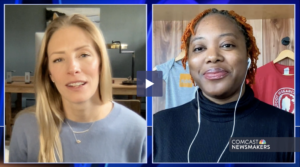 We're excited to share that 826 Boston was recently featured in a piece on Comcast Newsmakers.
Isata Jalloh, 826 Boston's Writers' Room Manager (who started with 826 Boston as an intern in 2016), spoke with Comcast Newsmakers host Jenny Johnson about the history of 826 Boston, shared student stories, gave a peek into new student publications, and talked about just how transformational writing can be.
Newsmakers is a public affairs news program produced by Comcast and features elected officials, policymakers, and nonprofit leaders.
You can find the interview online or on Xfinity On Demand—and please share the piece with friends and family, too!
---
← Previous
PHOTOS: Night of 1,000 Stories
Next →
2022 Social Justice Scholarship winners