One of our favorite holidays has sadly come and gone, but 826 Day was one for the books.

Every 8/26, affectionately known as 826 Day, we partner with independent bookstores across Boston to feature books by student authors from 826 Boston. This year, a record-breaking ten local bookstores stocked their shelves with our student-authored publications, featuring new releases My Generation Can and The Whole World is Watching. Even our friends at Warby Parker got in on the festivities, pointing fans to their in-store pencil rooms, where proceeds benefit local 826 chapters.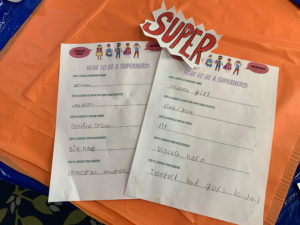 We also hosted our first-ever in-person 826 Day event at our Egleston Square tutoring center. From a popcorn machine to a "make-your-own-superhero" activity, this year's 826 Day End-of-Summer Shindig was a hit. Families, volunteers, and the 826 Boston team came together to celebrate the end of a busy summer, and gear up for an exciting start to the new school year.
Whether it was at a bookstore or our in-person event, this year's success would not have been possible without everyone's participation. Thank you for all your support, and we look forward to breaking even more records next year!
An extra special thanks to all of our participating bookstores:
---
← Previous
Summer Camp Explores the City's Hidden Gems
Next →
An evening of poetry at WBUR CitySpace