Over the course of seven weeks this summer, 826 Boston's remote programming ramped up, as elementary and high school students penned pet poetry, illustrated graphic novels, and drafted illuminating essays.
College Essays
826 Boston's Publishing and Programs ran a variety of remote college essay workshops for 89 students this summer. Each student attended three 90-minute sessions, spending the majority of each working 1-on-1 with the same 826 volunteer writing tutor, learning how to brainstorm, outline, and revise their personal essay for scholarship application.
The students came from a range of schools and summer programs, including John Hancock's MLK Scholars, EdVestors' Bloomberg Arts Internship Program, and even one student who called in from Seattle, Washington.
What was it like to virtually connect with students and tutors from all over the city (and country)? Will Marshall, the Publishing and Programs Manager, revealed that "At first, we weren't sure whether students and tutors would be able to form the same kind of personal connections on Zoom that make our in-person programming so successful. But after our first handful of sessions, we saw how our student/tutor pairs were still able to build that foundation in a virtual space through conversation…and a few icebreakers."
Strong student-tutor connections contribute to the series's main goal, which is to shrink the resounding fears of the college essay process. "For a lot of seniors, summer is the time to get ahead on their applications before the school year starts," said Erin Sherry, the High School Publishing and Programs Specialist. "So we wanted to provide more than one opportunity for them to receive 1-on-1 tutoring."
By the end of the summer, every participating student left with a draft, whether it was an outlined first draft or polished final piece. We're also hopeful that they exited the Zoom meetings with a stronger sense of themselves as students, writers, and college applicants. This fall, we'll continue to build on what we've learned about remote programming and how we can best serve our high school students.
*If your student wasn't able to attend a summer college essay session, share our On Demand College Essay Support videos and materials (available online now)!
K-8 Workshops
During the month of July, 826 Boston staff and AmeriCorps members led 14 workshops for over 100 students from Boston Public Schools, Higher Ground's Summer Learning Academy, and the Lilla G. Frederick Pilot Middle School's summer program for English Language Learners—including a few students published in this year's Young Author Book Project!
Splitting the four weeks by age group, participating 6-11 year-olds developed characters, illustrated graphic novels, and combined two of our favorite things in "Flash Fiction Fort Party," all of which were instructed by bilingual teachers for Spanish and English speakers. Out-of-School-Time Director Karen Sama's led the brainstorming bonanza formally titled "Oye…¡Eres Todo Un Personaje!" Focusing on strengthening their character-building skills, students picked a unique job to detail and reveal after a round of guessing. Can you figure out the job Troy, 10, wrote about based on the dialogue below?
Character A: Do I have to go to space? All I do is explore some rocks and bring them back to Earth.
Character B: Yes, you do. It's your job!
Character A: But I don't want to do this job, then!
Character B: Well too bad.
If you were thinking astronaut, that's incorrect—it's a scientist-engineer, of course!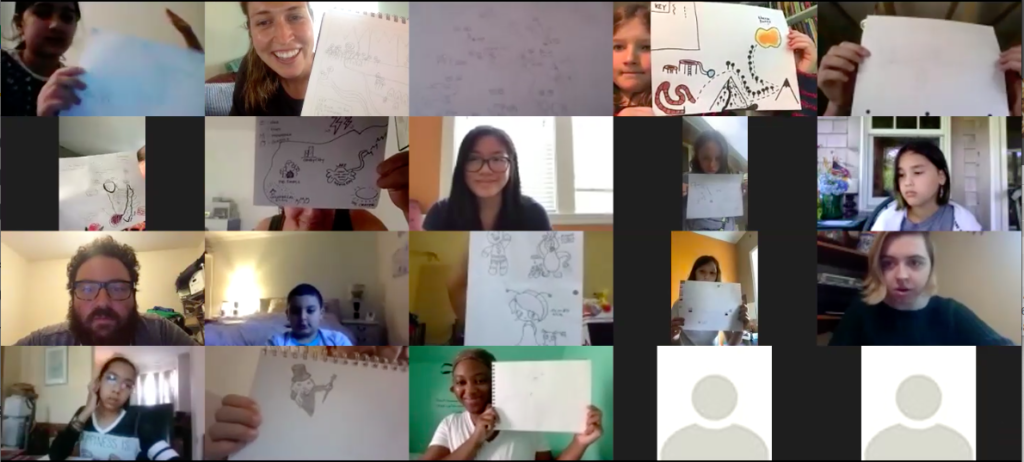 Fueling the student interest in space, "Journey to Planet Fantastic" transformed computer screens into spaceship portholes to embark on intergalactic adventures. As a group, students developed maps, histories, and even lyrical verses about their alien terrains, like:
On Old Planet candy, there is no gravity,
There's a bunch of weird things all around me!
And we can go jumping on a water trampoline
There's so much candy, the children shout with glee
In a time where everyone is feeling the weight of unanswered questions, students were encouraged to be thoughtful and curious and ask equally important questions like, "Why are soup dumplings filled with soup?" Colin, 8, skillfully explained:
The soup and the dumpling loved to play together each day. The soup trips over a rock and the dumpling tries to help by picking [up] the soup, but before the dumpling could put the soup back, he absorbs the soup.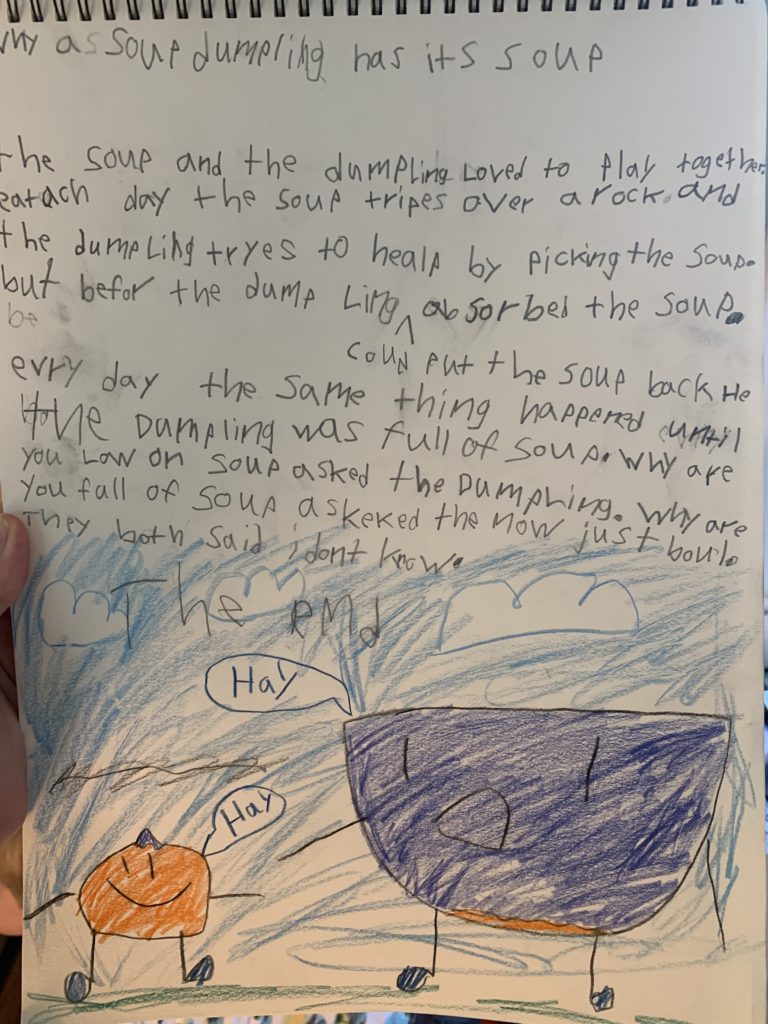 Dumplings weren't the only inanimate objects gaining personalities and histories! Carly Steinauer, the Student Impact & Assessment Specialist, mystified students by transforming her sidewalk rocks into Mr. Moo Sky and Lion the Whiskers King, prompting the students to pen pet poetry to praise their new playmates like Floppy the Goldfish, Speedy the Shark, and Fluffy the Rabbit (who was even fitted with a pom-pom tail).
Two High School Writers' Rooms rounded out the final weeks with two different forms of poetry. Rashawnda Williams, Writers' Room Coordinator at the Jeremiah E. Burke High School, and Wilce Mascary explored the power of spoken word poetry by leading mindful discussions, giving thought-provoking prompts, and creating a safe space for students to share their social justice-centered pieces. In Heather Nelson's workshop, "Poetry About People and their Places," participants were transported from their computer screen to their chosen country. The Writers' Room Coordinator at the John D. O'Bryant School of Math and Science showed students how sensory details can evoke the sounds of a busy street in Vietnam or the smells of a windy beach in Puerto Rico.
The success of our summer workshops would not have been possible without our 826 team, including the workshop leaders, tutors, interns, students, and their families. We look forward to reconnecting on-screen and in-person during the upcoming school year!