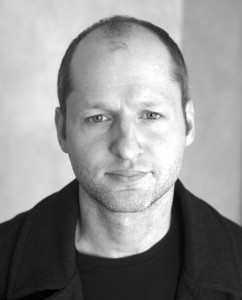 In 2007, Boston opened its own chapter of 826 National, the nonprofit cofounded by Dave Eggers to foster writing among students, ages 6 to 18. As executive director of 826 Boston, poet and longtime writing teacher Daniel Johnson oversees not only volunteer-staffed writing programs, but also the Greater Boston Bigfoot Research Institute, housed in the center's Roxbury storefront. His first book of poems, "How to Catch a Falling Knife," was released in April.
Given your work at the Bigfoot Institute, what are your preferred books on Bigfoot, Sasquatch, or yetis?
That's a good question, and it relates to my early love of reading. My brother, who was eight years older than I am, had a book on Bigfoot, with a black and white cover and a pair of glowing red eyes in the woods. I remember looking at the pictures of the Patterson-Gimlin footage, and fixating on that book, but not being able to read it.
We carry one of the definitive Bigfoot texts: "Sasquatch: Legend Meets Science" by Jeff Meldrum. And we have a book that our kids absolutely love called "Cryptozoology A to Z" by Loren Coleman and Jerome Clark. Our students have to walk through the Bigfoot Institute to the tutoring center, and so pretty regularly, Bigfoot or the chupacabra appear in their writing, like a deus ex machina. You know, there's a wedding, and there's a problem, and then suddenly Bigfoot appears. Like a Bigfoot ex machina.
What are you reading right now?
It seems like everything connects back to 826. I just read "Zeitoun" by Dave Eggers. That was a fascinating story, for the lens it provides on [Hurricane] Katrina and that time in our country. It's pretty devastating. I read a lot of poetry; I've been reading "The End of the West," by Michael Dickman.
My wife and I just had a baby, so I've been reading board books — "The Snowy Day," "Runaway Bunny." Even at 3 months, we put our daughter in this springy chair and get down on the floor next to her and hold up these colorful books. I can't say she's tracking the words, but she loves staring into these books.
What books drew you into poetry?
I have a book of Neruda's, which I've covered in packing tape and carried all around the world — "Twenty Love Poems and a Song of Despair," which he wrote at age 19, which is just impossible. That was an early fascination.
What poets are important to you now?
I couldn't stand going to church, but the psalms were really important to me. I took a class in college on the Bible as literature, where I didn't have to read it in a devotional way but could fall in love with the words. Paul Celan is a poet I love. You don't necessarily read his poems, but sit in front of them. They're almost impossible to understand. Anne Carson is a poet I love. She's got that book "Nox."
What did you think of that?
I haven't read it, but I've flipped through it. I think I've read all her other books. There's sometimes this hesitation to read the last book by someone, for fear you read it and they die. I'm kind of savoring waiting to read it.
How has teaching changed what you look for in writing?
With English-language learners, or inmates, or young students, the writing always feels really alive. When people are earnestly trying to communicate — and sometimes when there are serious impediments to their being able to express themselves, like writing in a second language — it's not a luxury. There's an urgency. Like, "I need to tell you, now."