"In a crowd that sees me as a stereotype, I define me" – I Define Me, Vickie Nguyen & Ericka Brito
Self-expression is one of the many values 826 Boston holds. Tutors and volunteers at the John D. O'Bryant High School Writers' Room push and motivate students to write whatever they like without boundaries. The theme for the fourth volume of Rubix, the Writers' Room's literary magazine, was the freedom of expression. Students were able to share their story how they wanted, their way.
Last month, we commemorated the authors with a release party for the magazine. The party included a white tablecloth where students left messages of positivity, advice, and celebration. Everyone was excited to read their stories with their friends, and took home their own copy of Rubix. If you would like to pick up a copy for yourself, come to the Greater Boston Bigfoot Research Institute or visit our online store.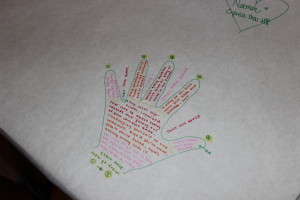 ---
← Previous
Tooth, Claw, Grit, Bolts of Energy: After-School Students on Magic
Next →
Grove Hall Superhero Release Party