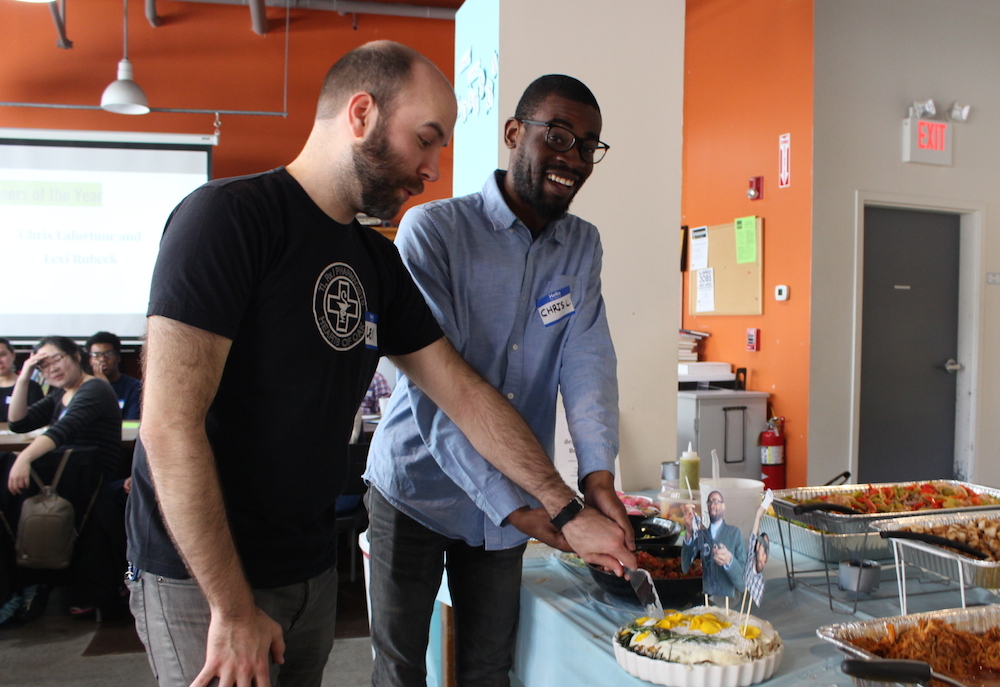 This past Saturday, April 8, 826 Boston hosted a smashingly successful Interrobang?! Volunteer Appreciation Party at the Great Boston Bigfoot Research Institute. Forty honored guests enjoyed a mouth-wateringly delicious taco bar catered by Amelia Rosas, mother to 826 Boston's own Jair, Kevin, and Brandon, enjoyed a heartwarming thank you video featuring familiar faces, and listened to testimonials made by 826 Boston students, staff members, and school partners, including second-grade teacher Erik Berg from Philbrick Elementary School, a longtime supporter whose own kids have benefited from 826 Boston's services. It was an invigorating and entertaining — in the way that only 826 Boston can be — afternoon as volunteers and interns mixed, mingled, and celebrated those who, through their generous service and commitment, continue to make 826 Boston's free programming possible. I don't know about you, but Bigfoot surely shed a tear.
*Pictured: Volunteers of the year, Levi Rubeck and Christopher LaFortune.
---
← Previous
February Workshops, Featuring Fantastic Beasts, Jolly Ranchers, and College Preparation
Next →
First Ever Half Half Half Half Half Marathon Raises $26,055 for 826 Boston!