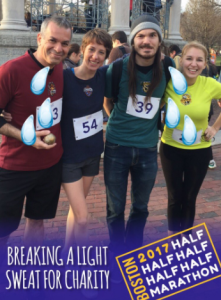 On Thursday April 13th, 80 runners gathered on the Boston Common to break a light sweat for young writers in Boston. We surpassed our goal of $25,000 during the event!
Our "real" Boston Marathon runner, Erin Sunderland, kicked us off with a quick warm-up. Then these runners took on the course.
After the race, 826 Boston Program Manager Karen Sama awarded prizes to the top 10 finishers, as well as for categories such as Most Creative Poster and Largest Team. Our event co-producers, Berman Creative, is pictured modeling their winning costumes.
Thank you to everyone who supported a team or ran. We couldn't have done it without our amazing community!
For more pictures from the event, check out our Facebook page, search the hashtag #HalfX5Marathon, or take a look at our roundup of photos and Twitter posts on Storify.
---
← Previous
First Annual Interrobang (?!) Thanks Volunteers
Next →
826 Boston Marathon Runner, Erin Sunderland, Conquers the 2017 Boston Marathon!