This holiday season, don't miss our unique gift guide, filled with creative gifts for the incredible humans in your life!
BE INSPIRED FOR CHANGE
Recent publications that explore the idea of self-identity and change
If you're looking for inspiration from tomorrow's leaders, we highly recommend these student-authored publications. In How We May Appear; from 826 Boston's Youth Literary Advisory Board, discover over 30 pieces from students across Boston exploring the idea of self-identity. And did we mention it features a foreword from poet Amanda Gorman? (If you want even more from these students, check out their podcast "Excuse my Culture.")
For more ideas for change led by today's youth, take a look at My Generation Can: Public Narratives for Community Change as well as I Closed My Eyes and Imagined: Visions for a Better Boston.
My Generation Can comes from twelfth grade students at the Edward M. Kennedy Academy for Health Careers, with a foreword by Massachusetts State Senator Sonia Chang-Diaz. This publication focuses on public narratives for community change, with the hope of convincing the reader to "take one little step towards making a difference."
I Closed My Eyes and Imagined comes from student leaders at the Rafael Hernández School and Margarita Muñiz Academy. This publication uses pieces of speculative fiction and proposals to offer up ideas for change, with the aim to make Boston "a place where we are all able to speak our truths and see them brought into action."
I Closed My Eyes and Imagined – $25.00
FOODIE FAVES
Ideal for the food lover in your life!
If you know someone who wants to start cooking more meals at home but doesn't know where to start, why not grab one of our STEM publications centered around food?
These three 2018 publications come from three different 826 Boston Writers' Rooms. With A Crunch and A Slurp explores the innovative and evolutionary potential of food with tenth grade students from the John D. O'Bryant School of Mathematics and Science. Folks can enjoy some food for thought inspired by the writing of eleventh and twelfth grade students at the Jeremiah E. Burke High School, as they write about the importance of access to nutritious foods in A Long Way to Healthy. For those who love a little bit of math mixed with the written word, All Kinds of Flavor is a great choice to enjoy stories, poems, and word problems written by sixth grade students from the Boston Teachers Union School.
Available for $20.00 each.
We may be in New England where iced coffee is king, but that doesn't mean folks shouldn't have a great mug to enjoy their favorite hot drinks!
This mug is perfect for your morning cup of coffee as you read the paper or for the cozy spot of tea as you get lost in the pages of your favorite author for the tenth time.
The cork bottom provides a great built-in coaster and helps keep its contents at a nice toasty temperature.
Important things to know:
-NOT microwave safe
-Hand wash ONLY
CREATIVE POETRY COLLECTIONS
Find inspiration from young poets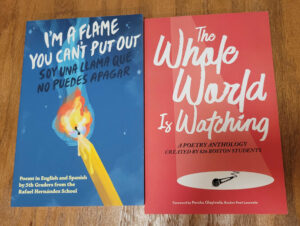 The poet in your life would definitely be a fan of these next two options. I'm a Flame You Can't Put Out/Soy Una Llama Que No Puedes Apagar is filled with English and Spanish poems from fifth grade students at the Rafael Hernández School. And don't miss this video of the students reading lines from their poems.  
We definitely recommend the 2019 poetry anthology The Whole World Is Watching for folks who want to find inspiration from Boston students across many of our Writers' Room programs. Plus, this collection features a foreword from Porsha Olayiwola, Boston's Poet Laureate.
I'm A Flame You Can't Put Out/Soy Una Llama Que No Puedes Apagar – $15.00
The Whole World is Watching – $18.00
UNIQUE GIFTS
How about something a little different?
For the art lover in your life, why not buy them Before This Place Filled With Zombies? This 2013 student authored publication features work from ninth grade students from the Edward M. Kennedy for Health Careers as they take a fictional look at the legacy of Isabella Stewart Gardner.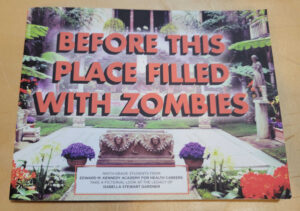 This publication brings a whole new life to some of the art pieces in the Isabella Stewart Gardner museum. PLUS, this publication is on sale!
For a gift that gives beyond the 2021 holiday season, please also consider giving the gift of student writing. 
When you sign up as a monthly donor, dedicate your donation to someone special and we'll send them a piece of student writing every month.
Find out more about 826 Boston's Student Writing Delivery Service here!
Powerful writing that inspires folks of all ages can make a wonderful gift. If you can't find the perfect match, check out these publications and many more at our store. Please note that order fulfillment and shipping may be delayed to reasons outside of our control.