Photo by © 2019 Mel Taing Photography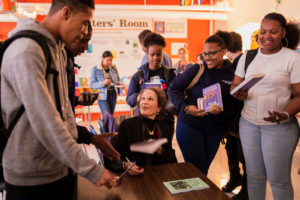 826 Boston was proud to celebrate the inaugural year of our Writers' Room at Boston International Newcomers Academy (BINcA) in Dorchester. Every student at BINcA has arrived in the United States in the past five years. At BINcA, they find an environment designed for English Language Learners and those who have had little or interrupted education in their home countries.
Opened in September 2018, the 826 Boston Writers' Room at BINcA already has much to celebrate, including the publication of eight collections of student work and a student showcase at the Boston Opera House, presented by the Hamilton Education Program. We were honored to welcome Julia Alvarez, author of In the Time of the Butterflies, who has grappled with issues of immigration and identity, to commemorate this celebration of the BINcA Writers' Room's first year of accomplishments. Thank you to Algonquin Books for donating copies of In The Time of the Butterflies, now celebrating its 25th anniversary, to our students!
---
← Previous
Student Podcasters Investigate Life's Burning Questions
Next →
Nana Kwame Adjei-Brenyah Meets With 826 Boston Students