It may not be beach season here in New England, but that hasn't stopped Ale Alcaraz from training for her first-ever marathon. In April, she'll be joined by long-time 826 Boston supporter Erin Sunderland as they run the 2020 Boston Marathon© through the John Hancock Non-Profit Program for 826 Boston.
This won't be Erin's first time tackling the historic marathon for 826 Boston. Two years ago, she crossed the finish line wearing an 826 Boston singlet, and she's excited to be tackling one of the world's greatest races again.
"Having lived in Boston for 20 years, I have a huge appreciation for the spectator support, the unpredictability of the weather, and the challenge of the course. It's partly the prestige of running one of the oldest marathons, but it's also the opportunity to run with runners of all shapes, sizes, and abilities, from elites to beginners!"
Erin has been a long-time supporter of 826 Boston, volunteering for College Essay Bootcamps, the After-School Program, and serving as a committee member for several fundraising events. She found her love for reading and writing at an early age.
"As the daughter of two educators, I learned to read and write at a young age and I've always had a huge appreciation for words. I devoured books, I did a lot of angsty writing as a teenager, and I eventually studied in English in college. And I've always loved meeting authors, which is why I adore that I get to meet so many young authors through 826 Boston."
To Erin, this has been the perfect opportunity to combine two of her biggest passions: running and 826 Boston.
"I've been lucky to witness how 826's unique approach really helps students tap into their imaginations and personal experiences, and then empower those students to bravely share those gifts with the world. I'm excited to use both running and training for the Boston Marathon© as a way to help increase exposure to 826."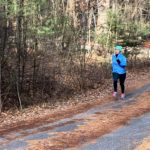 Joining Erin will be first-time marathoner Ale Alcaraz. She's a teacher at Violeta (a bilingual Montessori preschool), and the founder of Girasoles (a bilingual Montessori Parent-Child program).
Ale, who was born in Mexico, feels very connected to 826 Boston's mission.
"When I was a student at Northeastern, I struggled to write papers in English. I was scared to ask for help because I didn't know how the department would react. Had support services like yours been available, I would have been the first in line. In so many ways, my struggle led me to be an educator and a social entrepreneur with a mission to create nurturing environments for bilingual children."
Today, Ale feels lucky to witness the power of storytelling on a daily basis.
"Storytelling is an important vehicle for all children—it's how we connect, explore feelings and imagine ourselves in the world. It's an honor to represent 826 Boston as a member of its marathon team!"
As part of the John Hancock Marathon Non-Profit Program, both runners will raise $10,000 to support 826 Boston's free writing and tutoring programs for students and their families. If you're interested in supporting their run, you can donate to their fundraisers here.
Thanks so much to Ale and Erin. We can't wait to cheer you on!