On Tuesday, June 23, the students of 826 Boston's After-School Writing and Tutoring Program celebrated the release of their latest stories—this time all online!
Students were all smiles during the reveal over Zoom, taking time to explore the site filled with their funny stories, animations, and even color illustrations made over the last few months from home.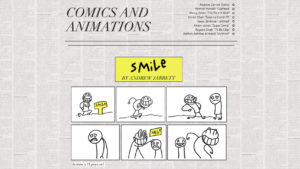 Despite being in the midst of a pandemic and adjusting to the challenges of writing and learning while apart, students truly embraced their creative sides. They wrote jokes, stories, poems, writing sparks, comics, and so much more.
Congratulations to all of the After-School students for their hard work on this online collection. And a huge thank you to all of 826 Boston's staff and service members who worked tirelessly to make these stories come to life in a new and creative way (and a huge shoutout to Carly Steinauer who designed the website!).
Fun Fact: There's a hidden treasure chest linked in an invisible box on the website's homepage, filled with virtual bouncy balls, notebooks, and toys. But look out! There's plenty of traps leading to horrible math worksheets as well…
---