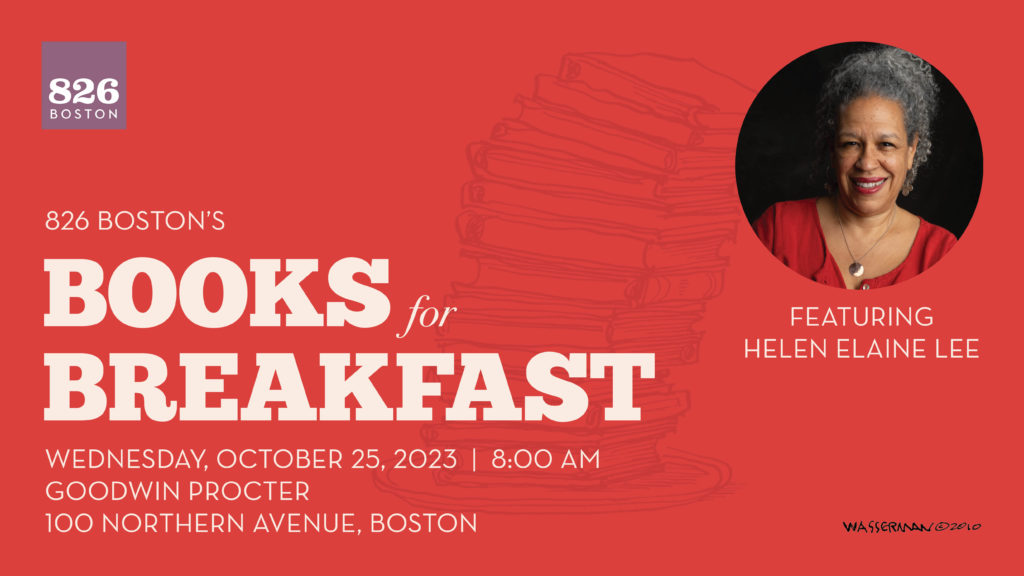 Rise and dine with student stories and scrumptious treats! It's time for Books for Breakfast, our annual jam-packed breakfast fundraiser, benefitting 826 Boston's free youth writing programs.
This year's event will be held at 8:00 AM on October 25, 2023, at Goodwin Procter (100 Northern Avenue, Boston). Attendees will enjoy breakfast, stories from a 826 Boston student, and a chance to connect with members from the 826 Boston community. Seating is limited, so get your tickets while they last. You can reserve your seat here.
This year, we're thrilled to have the author Helen Elaine Lee, as our guest speaker! Boston Globe included her book, Pomegranate, in the list of the best new books of this summer.
Helen Elaine Lee is a graduate of Harvard College and Harvard Law School. Her first novel, The Serpent's Gift, was published by Atheneum and her second novel, Water Marked, was published by Scribner. Her short story "Blood Knot" appeared in the spring 2017 issue of Ploughshares, and the story "Lesser Crimes" appeared in the Winter 2016 issue of Callaloo. Helen was on the board of PEN New England for 10 years, and she served on its Freedom to Write Committee and volunteered with its Prison Creative Writing Program, which she helped to start. She wrote about the experience of leading creative writing workshops in prison in a New York Times Book Review essay, "Visible Men." Her stories about people who are incarcerated have appeared in Prairie Schooner, Callaloo, Hanging Loose, Best African American Fiction 2009 (Bantam Books), and Solstice Literary Magazine. Her new novel, Pomegranate, is about a woman who is getting out of prison and striving to stay clean, repair her relationships with her kids, and choose life. Her journey to grapple with the past, own and tell her story, and reassemble the pieces of her life is one of healing, self-acceptance, and autonomy. Helen is a Professor of Comparative Media Studies/Writing at MIT.
Spots are limited, so get your tickets to Books for Breakfast today!