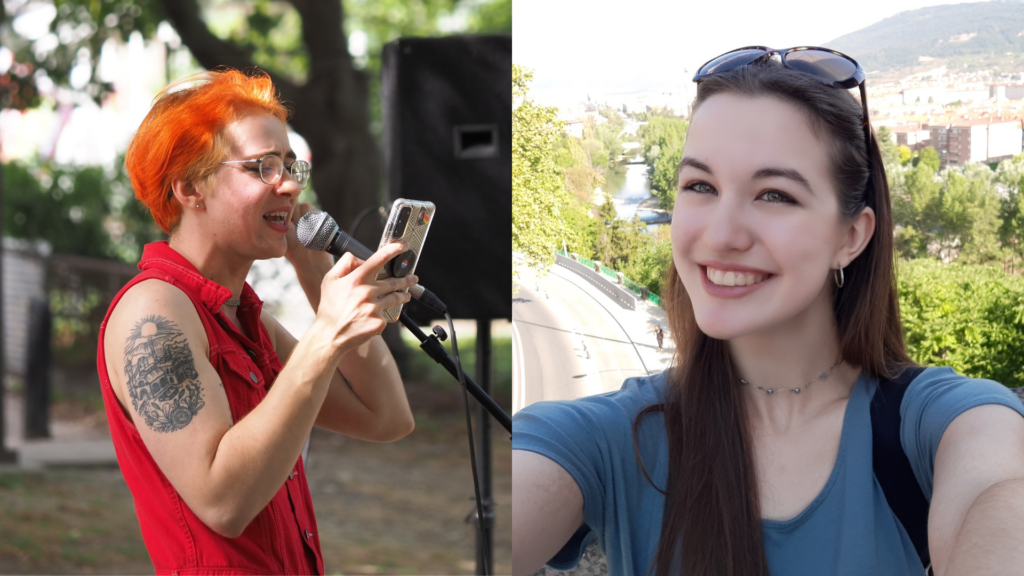 The 826 Boston team is full of talented, brilliant, creative, and compassionate people. We think you should get to know them better!
Meet two of our AmeriCorps service members this year, who have made a huge impact at 826 Boston: Myles Taylor (pictured left) and Rook Ward (pictured right).
Myles (he/they) is a transmasculine poet, organizer, food service worker, Capricorn-Aquarius cusp, and glitter enthusiast. They graduated from Emerson College with a BA in Writing, Literature and Publishing, and currently host the historic Boston Poetry Slam at the Cantab Lounge in Cambridge. They live with their cat in Allston, Massachusetts. Their first full-length collection of poetry is forthcoming with Game Over Books.
Rook (she/her) earned her Bachelors of Arts from Bentley University in 2021, where she studied politics, international relations, and environmental science. Since then, she's spent her time working at a garden center in Northern Massachusetts, reading, writing, and watching far too many video essays on YouTube. She likes to travel whenever she's able. Rook is an award-winning advocate for social justice and gender equity.
What book do you recommend and why?
Myles: Song of Achilles by Madeline Miller. This book completely changed my idea of what prose can look like, what love can look like, and the possibilities of queering classics.
Rook: The Book of Joy by Archbishop Desmond Tutu and the Dalai Lama. It's a fantastic meditation on love, grief, and the human condition that completely changed my perspective on life the first time I read it. It's my go-to Christmas gift. Writing this makes me want to re-read it, actually.
What are you currently listening to?
Myles: I am a sucker for pink/indie/garage rock, but lately I've been on a big Frank Ocean kick.
Rook: I'm currently consumed entirely by The Mountain Goats, which despite sounding like a band with multiple people, is just John Darnielle, and occasionally whoever else he's decided to work with at the moment. It's generally way more lofi than I usually listen to, since I typically prefer instrumentally intricate music like progressive metal and certain indie bands. His stuff is weird—his guitar is rarely tuned correctly, and often he's recording with background noise playing on. There are other quirks to his music that make it stand out from generic acoustic one-man-show discography. He's written over 500 songs. I'm obsessed.
How did you decide you wanted to be an AmeriCorps member?
Myles: I've always wanted to work for an organization like 826 Boston because I'm passionate about poetry organizing and programs. However, I didn't realize until very recently that I actually wanted to work with youth, too. I've been applying for jobs in development, fundraising, and event planning for poetry organizations for several years, but had an epiphany during the pandemic. My favorite part about organizing around poetry is mentoring younger rookie poets and watching them grow. I also love fostering physical spaces where they can grow, like the open mics and clubs I've run in the past. So like, duh, that's the Writers' Room model.
Rook: After earning my undergraduate degree, I needed time to figure out what I wanted to do with the rest of my life, and I wanted to do something meaningful while I figured that out. AmeriCorps (and by extension 826 Boston; I love the 826 network) was the logical choice.
What's something most people would be surprised to learn about you?
Myles: I don't know if anything about me is surprising since I'm a pretty open book, but I almost attended cosmetology school instead of a regular college. I knew I loved writing poetry and wanted to continue forever, but I was torn between studying it in an academic context and doing it on my own time while working in a cosmetology trade. I cut my family's hair growing up to save money and I got pretty good at it. I'm glad I chose Emerson in the end, because studying poetry gave me the encouragement to keep pushing myself artistically and helped me network myself in the city's poetry scene.
Rook: I'm an anxious introvert! People stress me out! I'm very friendly, but I definitely need space to recharge and decompress.
Can you tell us about a time when the AmeriCorps program made you feel truly rewarded?
Myles: I had a student who made me really emotional the other day because she couldn't bring herself to begin her essay, even though she knew exactly what she intended to say. She wanted it to come out perfectly the first time. This is exactly how my various neurodivergencies manifested when I was in school; I was too afraid to start anything because I didn't want the work to be terrible. I gave her the various tools I learned to get out of that mindset. I saw her whole demeanor change as she took charge of her workflow. It was really great!
Rook: I worked with a student on his college essay. He'd come into the session with a lot of work done, but wasn't entirely happy with his story. He didn't know how to communicate how motivated he felt to discover his passion. After about 20 minutes together, we'd figured out what he was stuck on and found ways to express it. He was so excited. He not only made a breakthrough with his essay, but also understood his priorities and goals.
How do you like to enjoy your weekends?
Myles: I play instruments, do weird little art projects, cuddle with my cat, dance, read, sit on porches with friends, plan my next poetry show, watch dumb YouTube videos, and work night shifts managing a restaurant in Cambridge.
Rook: When our schedules line up, my friends and I are all big Dungeons and Dragons nerds. I run sessions, which can go anywhere from two to four hours, and take several hours of prep.