Aligned with our evolution and growth as an organization, 826 Boston has updated its mission statement. Read below for more details on the process—and to see the end result.
Where We Are Today
826 Boston has experienced tremendous growth over the past five years. Since 2016, we have opened and maintained a total of six Writers' Rooms at partner Boston public schools. We have also increased the size of our team from 13 members to nearly 50, launched 826 Boston's Youth Literary Advisory Board, and shared many, many student stories.
As we worked to develop our next strategic plan, we revisited our mission statement to reflect what we do, who we serve, and what we've learned—particularly in our ongoing work to become a more anti-racist organization.
Our Process
The process officially began this past spring, when Youth Literary Advisory Board (YLAB) students reviewed the former statement and provided feedback about what did and did not resonate with them.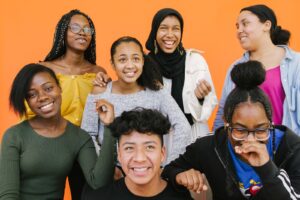 826 Boston's 2019-2020 Youth Literary Advisory Board members. Photo credit: Katytarika Photography. (YLAB Team Leader Asiyah pictured back, center)

826 Boston board member and DEI workshop facilitator Samantha Simmons then facilitated a workshop in April hosted by our DEI Committee that included  826 Boston team members, board members, and YLAB team leader Asiyah. Sam led us through a process in which we reviewed YLAB's feedback and examined what we wanted to keep as well as what we wanted to edit or add to our current mission statement. We were encouraged to think about our mission with three questions in mind:

how does this language work with our diversity, equity, and inclusion lens?
does this language reflect what we do and who we serve?
does it capture our evolution and growth? 
A smaller group of the workshop participants identified trends from these conversations and revised the current statement based on what was voiced by our community. 
The Result
Here is the former mission statement:

826 Boston is a nonprofit youth writing and publishing organization that empowers traditionally underserved students ages 6-18 to find their voices, tell their stories, and gain communication skills to succeed in school and in life.
And here is the new, revised statement: 
826 Boston is a nonprofit writing, tutoring, and publishing organization where students in grades K-12 and beyond can share their stories, amplify their voices, and develop as leaders in school and in life.
826 Boston students and alum are centered in the revised statement, and Executive Director Jessica Drench reviewed our process and final draft with YLAB prior to adopting it as an organization.  We are grateful to all of the members of our community who helped our team in this work, and we're particularly grateful to the youth leaders in YLAB, whose precise and powerful feedback was integral to our process. 
Our mission statement is only one part of who we are and what we do, but we think it represents us well, and we are excited to share it more widely as we prepare to circulate our new strategic plan early this fall.