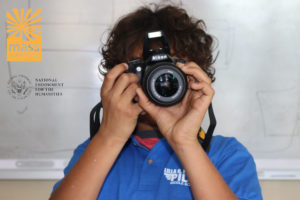 826 Boston recently received a generous grant from Mass Humanities to support this year's Young Authors' Book Project.
The grant will fund a very special publication slated to release in May of 2020, authored by middle-school students from the Lilla G. Frederick Pilot Middle School.
The project will culminate in a professionally designed book featuring students' writing on geographic and cultural landmarks in Dorchester (with a focus on the neighborhood of Grove Hall), a historically and culturally rich part of Boston. The 826 Boston team will partner with local historians, business owners, and community leaders to create a lasting artifact about the area's rich history, culture, and resources. 826 Boston and partner teachers at the Frederick hope that the project will provide a culturally-competent, first-hand counter-narrative to the perception of Dorchester as a disadvantaged area of Boston. 
The project will give students the chance to author an asset-based exploration instead of being the recipients of a legacy written by others. After the book's completion, 826 Boston will host a book release party to honor the participating students and welcome the Dorchester and greater Grove Hall community to join in the celebration.
This program is funded in part by Mass Humanities, which receives support from the Massachusetts Cultural Council and is an affiliate of the National Endowment for the Humanities.
---
← Previous
Boston Announces First-Ever Youth Poet Laureate
Next →
An Interview with Natnael