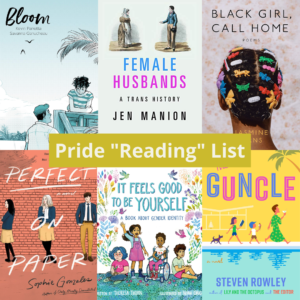 Dear 826 Boston community, 
This June, we want to be intentional in how we celebrate Pride month. While we take joy in the deep love and triumphs of the LGBTQ+ community, we want to remember the challenging history and the lives lost in the fight for civil rights. Progress is being made every day, but there is still a long way to go for our LGBTQ+ siblings' protections, particularly for those of us who are trans, non-binary, and BIPOC. 
This collection of resources is by no means comprehensive. It touches only slightly on the myriad identities and experiences of the LGBTQ+ community. This list prioritizes queer joy but, as life is not free from difficulties, you will also find pieces that deal with trauma, grief, abuse, and other challenging topics. Please prioritize your health and well-being this month while we honor the past, celebrate the present, and continue fighting for the future. 
Warmly, 
The Cultural and Community Learning Committee 
---
Next →
Students Take on the 2021 Boston Mayoral Race