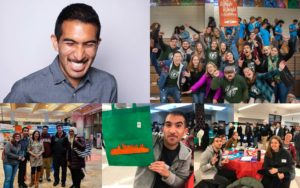 He's from the hometown of the PawSox, is passionate about creative writing, and wants to become a professor one day. We recently caught up with Jose Martinez, one of our AmeriCorps Writers' Room Fellows, to learn more about his life outside of work, how his first service year is going, and what made him want to come back for another year with 826 Boston!
What made you want to become an AmeriCorps Writers' Room Fellow with 826 Boston?
Creative writing is my life and my passion. It is what I want to make a career out of, and I guess you could say that I'm enough of a wishful dreamer to dedicate the rest of my life to it. Alongside writing and hopefully publishing my work, I would love to be able to become a professor of creative writing sometime in the near future. This is where 826 Boston and their Writers' Room Fellowship comes in. I had kept my eye on 826 Boston for a while, as I was very taken with their goals and mission statement. So when the opportunity came to become involved with them in some way, I felt like I had to step up and seize this chance.
Any specific moment from your year of service that has impacted you so far?
I have been simultaneously amazed yet unsurprised by the drive and creativity displayed by all the students I've had the pleasure of working with so far. Whether they're in kindergarten or in eighth grade, they're all incredibly smart and do a stellar job of putting all these ideas they come up with on paper. There's a story that is set to appear in the math-themed publication by the Hernández Writers' Room that is the product of a fifth grader's treasure trove of ideas mixed with his love for a popular children's book series, and I'm very excited for everyone to get to read what he has been working so hard on.
You're coming back for another year of AmeriCorps with 826 Boston! What's making you come back?
If I learned anything from Alison, my Writers' Room coordinator, it's that if you do one year of service at the Rafael Hernández Two-Way Bilingual School, you'll never leave. I am inclined to agree, as that's what has happened to me. It's easy to see why so many people have stayed for so long. I feel like I've begun to be part of the community at this school, and I don't feel ready to leave yet. I still have ideas I want to implement in the school's Writers' Room, ideas that I want to think would do its namesake, Blanca Burgos, proud. I feel like I can't leave until I make them happen.
When you're not at 826 Boston, what do you like to do?
It goes without saying that I love writing and reading a lot, though I also consider myself a lover of movie watching and cinema-going. And when I'm not doing those things, I focus my time on completing my run for the day, long or short. And if it's not those things, watching soccer at home or in the company of good people. And if it's not any of those things, resting.
What is one thing that you believe most people do not know about you? 
I did karate for about 9 years, believe it or not. I reached the rank of black belt before I left. I earned it right around the time college applications began, which meant shifting most of my focus and attention to that.
Do you have a favorite quote or personal mantra?
It's probably the quote I sign all my emails with, mostly because it's from one of my literary heroes, Valeria Luiselli – "Stories are a way of subtracting the future from the past, the only way of finding clarity in hindsight."
If you wrote an autobiography, what would be its title?
A Work Still (Very Much) in Progress
Finally, what's your favorite thing to read?
I can never stop recommending Gold Boy, Emerald Girl by Yiyun Li to people in search of an incredible, jaw-dropping read. Or rather, a collection of incredible, jaw-dropping reads. Li's approach to writing short stories is like none I've read thus far, and everything she has published since then is something I have treated like an event all its own. I mean, the collection opens with an 80-page story that has the weight and depth of a full-length novel – can I really ignore both this book and Li when she hits her audience with a book introduction like that?
Want to join 826 Boston's AmeriCorps Writers' Room Fellowship? Apply today!