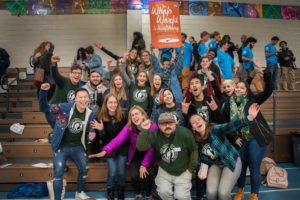 826 Boston's 2019-2020 AmeriCorps service members.
PROGRAM DETAILS 
The Writers' Room Fellowship is an 11-month service program, beginning in August. As an AmeriCorps member, you will build upon your personal strengths and develop transferable skills, such as teamwork, leadership, decision-making, project management, and relationship development. You will develop your knowledge of school and community partnerships, cross-sector collaboration, and the day-to-day operations of a nonprofit organization. 826 Boston provides AmeriCorps members with formal onboarding in the summer, ongoing training throughout the year, and individualized coaching from a direct supervisor.
All qualified applicants will receive consideration without regard to race, color, religion, sex, sexual orientation, gender identity, national origin, disability status, protected veteran status, or any other characteristic protected by law. Reasonable accommodations will be considered for interviews and throughout the term of service upon request.
Open positions: Volunteer Engagement Specialist

BENEFITS:
A bi-weekly living stipend
An AmeriCorps Education Award to help repay public student loans or to put toward future educational classes
A monthly $70 travel allowance
More than 170 hours of professional development
Medical coverage if needed—up to a $50 reimbursement to cover individual health coverage premiums
40 hours to use for personal/sick time + 9 holidays + 2 weeks winter break
Possible eligibility for food, transportation, and public utility benefits
WHERE YOU COULD SERVE
826 Boston partners with six different Boston Public Schools to provide a dedicated classroom to catalyze a culture of creativity and writing for the entire school. Over the course of a school year, each Writers' Room will serve every student in the school through whole-class visits, individual writing assistance, and/or after-school extracurricular activities. Below are descriptions of each Writers' Room where you could serve as an AmeriCorps Writers' Room Fellow.
High Schools
Boston International Newcomers Academy (BINcA) 
Address: 100 Maxwell St, Boston, MA 02124 
Languages Spoken: English, Spanish, Haitian Creole, French, Cape Verdean Creole, Portuguese, Vietnamese, Somali, Bengali, Arabic, and Amharic
BINcA is a high school specifically designed to serve a diverse student body of English Learners. Our ideal candidate would have experience working with English Language Learners.
Edward M. Kennedy Academy for Health Careers (EMK) 
Address: The Writers' Room is located on Northeastern University campus | 35-37 Leon Street Meserve/Holmes Hall
Languages Spoken: English and Spanish
The EMK is our newest Writers' Room. It serves 11th & 12th graders and is located across the hall from Northeastern University's Writing Center. We're looking for candidates who are creative thinkers and those who can travel short distances multiple times a day.
John D. O'Bryant School of Mathematics & Science (O'Bryant) 
Address: 55 Malcolm X Blvd Roxbury, MA 02120
Languages Spoken: English, Mandarin, Vietnamese, Spanish, Haitian Creole, Cape Verdean Creole, Somali, Arabic
826 Boston's very first Writers' Room opened at the John D. O'Bryant—one of three Boston exam schools—located a few blocks from Roxbury Crossing. While many students have strengths in STEM subjects, there are plenty of creative writers here.  We provide support to students on a wide range of writing projects from history research papers to biology lab reports to college essays. We also have a range of exciting clubs after school such as Rubix Literary magazine (a bi-annual student publication) and an award-winning slam poetry team. We're seeking candidates who have a love of writing and of teens. We also encourage applicants who have a desire to lead student publications and clubs, alongside create exciting new experiences for students.
Jeremiah E. Burke High School (Burke)
Address: 60 Washington Street, Dorchester, MA 02121
Languages Spoken: English, Cape Verdean Creole, Spanish, Haitian Creole, Portuguese
The Jeremiah E. Burke High School is the only Massachusetts high school to exit turn around status. To see such improvements, the Burke strongly believes in focusing to provide educational experiences that support the whole child. The community at the Burke is both strong and family-oriented. What makes the Burke special is its partners—we as a Writers' Room are one of several different partners within the school. The school takes a trauma-sensitive approach, which is representative of one of the school's core values: perseverance. The faculty/staff at the Burke works relentlessly to help students grow not only academically, but social-emotionally. We're seeking candidates who are determined and have strong communication skills. Experience with trauma-informed practices and previous experience working in education is preferred, but not required.
K-8 Schools
Rafael Hernández Two Way Bilingual School (Hernández)
Address: 61 School Street Roxbury, MA 02119
Languages Spoken: Spanish & English (Two-Way Bilingual School)
The Rafael Hernández School was the first bilingual school in the state, founded in 1970 to support a wave of Puerto Rican immigration to Boston. Our Writers' Room is named after Blanca Burgos, a former Rafael Hernández educator and mother of our current Teacher Leader/Assistant Principal. It is also a short walk to our 826 Boston offices in Egleston Square. Fluency in both Spanish and English is mandatory for this position.
Boston Teachers Union School (BTU)
Address: 25 Walk Hill Street, Boston, MA, 02130
Languages Spoken: English, Spanish, Haitian Creole, Cape Verde Creole, Somali
The Boston Teachers Union School is a shared leadership school. The school does not have a principal but instead operates under a committee structure and weekly faculty meetings. We're looking for candidates who have experience working with young children and teens, a flexible and positive attitude, and strong organizational and communication skills.
QUESTIONS?
If you are interested in the 826 Boston AmeriCorps Writers' Room Fellowship Program, please contact Catherine Gomez at 617-942-2036.